Location
Strategic location is a major factor in Pureland's success.
As the East Coast's Largest Industrial Park, Pureland enjoys proximity to the entire Boston-to-Richmond corridor, an ideal base for Eastern regional operations.
Located at Exit 10 of I-295 in Gloucester County, Pureland lies only 12 miles from the City of Philadelphia, and 15 minutes from Philadelphia International Airport.
An unequalled network of superhighways provides quick access to Baltimore and Washington on I-95, and to New York City via the New Jersey Turnpike.
With immediate access to metropolitan market of six million people, Pureland offers all the advantages and amenities of a cosmopolitan environment yet provides an expansive country setting.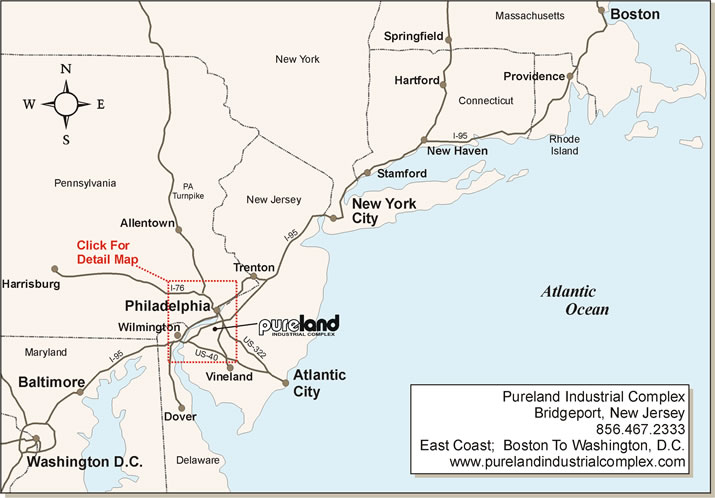 Local Travel Times
Atlantic City 40 min.
Benjamin Franklin Bridge 30 min.
Betsy Ross Bridge 35 min.
Camden 25 min.
Center City Philadelphia 35 min.
Commodore Barry Bridge 4 min.
Delaware Memorial Bridge 10 min.
NJ Turnpike Ent. 6 min.
Philadelphia Intl. Airport 15 min.
Walt Whitman Bridge 20 min.
East Coast Metro Mileages
Baltimore 79 miles
Boston 350 miles
Buffalo 370 miles
Cincinnati 600 miles
Cleveland 445 miles
New York City 98 miles
Philadelphia 12 miles
Pittsburgh 330 miles
Richmond 240 miles
Washington 109 miles
Green Friendly
In 1973 Pureland recorded the Declaration of Environmental Standards which established restrictions on water; sound air, storm water waste generated on each site. In addition, approximately 1,200 acres are preserved in perpetuity to protect the flora and fauna. Landscaping standards for each site were established and today the flora and fauna thrive in the protected area and there are more trees now in Pureland than before it was established.
Local Work Ethic
Local Workforce
The local workforce includes those with great skills used in manufacturing such as machinists, welders, electric assembly experts, medical, clerical, and pharmaceutical industries. A large part of the work force consists of sons and daughters of farmers who exhibit a work ethic seldom found so close to a large, urban environment.
Local Municipalities
Logan Township – Pureland is in Logan Township New Jersey. Because of its 85% non-residential basis, Logan Township has among the lowest real estate taxes in New Jersey.
Gloucester County
Logan Township is contained within Gloucester County. The county has a long established history of good government, exceptional services and a reasonable tax rate.
History
Pureland was established in the early 1970's when 45 farms comprising 3,200 acres were assembled in Logan Township, New Jersey. Under the ownership of State Mutual Life Assurance Company of America, environmental studies were under-taken by Dr. Jack McCormick, PhD. the first scientist with a doctorate in environmental science.
In 1973, the Pureland Association was formed and Declaration of Environmental Standards were established and recorded in Gloucester County, New Jersey. Approximately 1,200 acres were placed in an environmental reserve in perpetuity and rigid environmental controls were established, prior to the establishment of the Environmental Protection Agency or the New Jersey Department of Environmental Protection. These restrictive covenants protect property owners' value and are enforced by the Pureland Association which consist of property owners.
In 1976, the initial infrastructure was established with public water, sewer and rail servicing Pureland.
In 1977, Center Square Real Estate Development Company took over management of Pureland for State Mutual Life Assurance Company of America.
Rapid development took place over the years in a manner sensitive to the environment. .
In 2000, Center Square Real Estate Development Company purchased the undeveloped land from State Mutual and continues to manage and develop Pureland today.
Pureland consists of 12,000,000 SF of space and houses an excess of 180 companies employing over 8,500 people. Pureland is the largest Industrial Complex in the State of New Jersey.